Dinner at Jean-Robert at Pigall's, Saturday May 28, 2005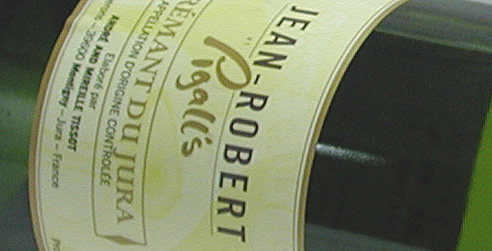 On Saturday, May 28, 2005, Wendy & I dined at Jean-Robert at Pigall's in downtown Cincinnati.
Jean-Robert at Pigall's innovative three-course prix fixe menu features a delectable array of appetizers, entrees, and desserts accompanied by an extensive wine list. A five-course degustation menu is also offered and wine pairings, suggested by the sommelier, are available for all menu selections.
Wendy & I discussed the menu options and decided that we would both order the five course degustation menu with wines.
Since I am familiar with the restaurant both from eating there in the past and more recently from volunteering there, I had extremely high expectations for the meal. I must report that what we received was nothing at all what we expected — in the very best way. Here's how the experience unfolded…
After arriving at the restaurant, we stopped into the kitchen to say hello to everyone since it was "half-time", the period of relative quiet between the first and second seating of the evening and we knew that the guys would be more accessible. When we walked in, we observed that Chef was in conversation with a few of the guys, so we waved and moved back out to the dining room.
We were just settling into our comfortable seats in a banquette at the rear of the restaurant when a bottle of lovely sparkling wine was delivered compliments of the Chef. We placed our order for the five course menu and Tammy, our energetic & personable server, brought to the table the menu placard & stand indicating the five courses and pairings that we could anticipate. As we read it with excitement, Wendy observed that this on-table menu was probably hard-won knowledge that reduced the number of questions from guests to the staff during the meal.
Tammy came back a few minutes later with our amuse-bouche. As she delivered it, she said, "Apparently, Chef is taking you off the degustation menu because I've never seen this dish before. Is it okay with you if he does that?". Delighted, we said yes (as if we could possibly say no to being taken on the chef's fancy)!
A couple quick notes: We did not do a good job of keeping track of the wines that were poured with each course, but we've listed them where we can. Also, the designation "Menu" indicates that the item was off the five-course degustation menu, though some of the items were modified versions of what appeared on that menu.
The amuse-bouche was Oyster with Avocado Cream & Chantilly Cream served in what resembled a white ceramic shot glass mounded with white cream. There were three distinct layers to this dish — the smooth avocado cream at the bottom, a couple of cold, briny oysters in their liquor, and a mound of chantilly cream on top.
Tuna Nicoise with Monkfish Liver & Truffle Cream — glistening ruby-colored cubes of tuna with a disk of monkfish liver on the top and the bottom, topped with a quenelle of amazing truffle cream and a generous slice of truffle on top.
Warm Jonah Crab Salad with Asparagus Sorbet & French Asparagus — when the asparagus sorbet was delivered, I saw Wendy's eyebrow go up doubtfully. She didn't expect it to be as delicious as it was. This dish, with the wonderful fresh taste of the jonah crab and the creamy cool asparagus sorbet, was one of the highlights of the evening.
Rock Shrimp Open Ravioli, Blood Orange Sauce — in the kitchen, Matt is always seems to be making pastas out of unusual ingredients. This rock shrimp ravioli was one such unusual pasta, and it was a subtly-flavored, exciting dish. The blood orange sauce and chips of dried blood orange rind were extremely flavorful.
Menu: Sauteed Langoustine with Lemon & Hazelnut Dressing, Asparagus & Endive Salad — another highlight. This perfectly prepared langoustine was delicious and the lemon & hazelnut dressing was a revelation in depth of flavor. This dish is an example of a confident, mature kitchen.
Menu: Foie Gras with Smoked Black Pepper & Strawberry Compote, Baby Onion Tart, Duck & Strawberry Demi-Glace — Oh boy, Wendy & I love foie gras. This dish was presented on a puff pastry tart with caramelized baby onions. A generous slice of foie gras was seared and placed on top. The duck & strawberry demi-glace was a deviation from the menu, but was a wonderfully-flavored addition.
Wine: Baumard Coteaux du Layon, 2002
The next course was a giant Scallop, perfectly cooked and translucent in the center, with Morel Cream & Dandelion Salad and a Citrus Reduction.
Menu: Black Sea Bass, Beaujolais Reduction, Beet Confit, Shiitake Mushrooms and Pea Puree — the presentation on this dish was outstanding. The beet confit were gorgeous and the sea bass was outstanding. The beaujolais reduction proves yet again that the guys in the kitchen know their stuff.
Wine: Jean-Claude Lapalu Brouilly Cuvee Vieilles Vignes, 2003
Menu: Spring Lamb with Herb Sauce, Marmalade of Shallot, Gateau of Carrot, Potatoes, and Cepes Mushrooms — a few medium-rare slices of gorgeous lamb loin, a quenelle of roasted shallots (very delicious), the herbed demi-glace, and the beautiful gateau of carrot made this a wonderful springtime dish.
Wine: Cave de Tain Crozes-Hermitage, 2001
At this point, Tammy told us that the sous chef, Todd, had asked if we had room for a cheese course. Undaunted (we're dedicated foodies) we said yes, though I was more enthusiastic than Wendy at this point (she's still training up). Soon, the Cheese course was delivered with an ounce or two each of Gouda, Goat, Camembert, Blue, and one other. Served with a delicious Tawny Port. As a result of this delicious course, Wendy & I decided that we like cheese courses and included one in a recent meal we hosted at our house.
Tammy indicated that we were heading into dessert. Wendy sighed in relief since she was getting a bit full. Her eyes widened when the dessert plate came out — with five small desserts on it…
Menu: Chocolate Mousse, Creme Brulee with Raspberries, Rhubarb Frangipan with Rhubarb Honey Compote & Goat Cheese Yogurt Ice Cream, Coconut Ice Cream, and Chocolate Bisque.
After our meal, we stopped back into the kitchen to greet the guys and to offer our gratitude for their generosity. Chef was more relaxed and came over immediately to meet Wendy (and to receive a kiss from her — he's no fool!) and to genuinely inquire as to our enjoyment of the evening. He was sincerely interested in hearing our assessment. We went around and talked with each of the guys in the kitchen. Bob, Todd, and Matt all came over and met Wendy, who was a bit overwhelmed by everything.
We were humbled, honored, and appreciative of the outstanding treatment we received during our 4 hour meal at the restaurant on that evening. It exceeded our expectations by miles and miles.
That meal stands in our memories as one of the best we've ever eaten.
---
---