Who is this person?
I am a man named Drew Vogel. I live in Cincinnati, Ohio in the United States. I live with my wonderful wife Wendy, to whom I have been married since December 31, 2003, and our animals… Cats: Stompy, Eunice, The Senator, Janet, and Merry Berry (or Mary Berry — Wendy and I disagree on the spelling!).
We miss our cats Ringo, Merrick, Akhenaten, Oliver, Mr. Face, Kasey, Achilles, and little white cat, who left paw prints on our hearts when they left all too soon, and fondly remember Midnight, Stanley, Esther, Belle, Buster, Chuck, Dolly, and Bean (dogs) who are gone too.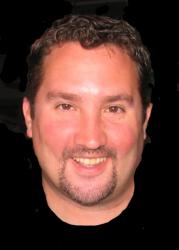 What's he all about?
My hobbies and interests include gourmet cooking, culinary education (I am an adjunct instructor at the local culinary college and also teach at a local retail culinary shop), board (tabletop) gaming, scuba diving, pets, travel, tattoos, movies, home theater, reading, and music. Each of these activities touch my life almost daily and give me immense pleasure.
RSS feed
The RSS feed I provide is based on the RSS 2.0 specification. RSS is a standard for syndicating frequently updated content from a site using a newsreader. To use the feed, copy the link (below) for the RSS file into the Subscription panel of your newsreader application.
Contact Us
We'd love to hear from you! Click the link below to contact us. We'll read your message and make a sincere effort to get back to you.