CULINARY: My third night at Pigalls, some goodbyes, and more…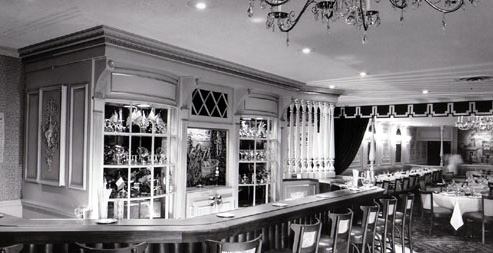 On Saturday (February 19, 2005) I worked at
Jean-Robert at Pigall's
restaurant for my third night. I arrived around 1:30pm and worked until almost 11:00pm. 
Before the family meal (which was La Rosa's pizza that Scott provided), Chef held a meeting of the kitchen staff to which I was invited. It was the first time I'd been in the dining room since I started there (though I'd previously been there as a guest).
The purpose of the meeting was to re-assign the staff to new positions in the kitchen because three of the guys were moving on to other opportunities. Most of the guys were assigned to a new station, which I later learned is a pretty usual occurance in restaurants — this keeps things fresh and allows the guys to continue learning. The Chef singled out each guy in turn, told them what their new position would be and why he was moving them. For every person, Chef indicated both things they were good at and areas that needed improvement, and indicated how the new position would allow them to improve. The meeting lasted about half an hour, and as we were walking back to the kitchen, one of the guys said, "I can smell the weeds from here". We were slammed a bit to catch up on prep, but everything came together in time for service.
In the interest of letting the guys settle into their new routines, I chose to take the next couple Saturdays off. The last thing they need is me bashing around while they're still trying to find their groove. Currently, the plan is that I'll work again on Saturday, March 12.
To celebrate the last day of Thomas, Scott, and Billy on Saturday (February 26), I took down a cooler full of Coca-Cola and some Snickers bars to the guys. Thomas is headed out of the country to work in a restaurant-exchange program, Scott is headed out West, and Billy is heading off to culinary school. Jean-Robert is very supportive of the future careers of these guys, and helped them by directing them to restaurants and chefs, and making connections for them. I enjoyed working with these guys a whole lot, and will miss them in the kitchen. Best of luck to them all!
I took a half-day's vacation from work on Thursday, February 24 to work in one of the prep kitchens at Cincinnati State College. They celebrated the grand opening of the new building (which houses the educational kitchens) on Friday, February 25 and loads of food needed to be prepared. I worked with one of my old classmates, Al. It was nice to see him in the kitchen — we've had lunch a couple times since our program ended, but I hadn't had the chance to cook with him in a while.
After prep was complete, Chef Nease (my instructor for my BUTCHERY AND FISH MONGERING class) gave me a short tour of the new building. It is amazing, and poises Cincinnati State's Midwest Culinary Institute for a very bright future. This is a top-notch facility.
---
---