CULINARY: Pigall's Night — Nov. 15, 2006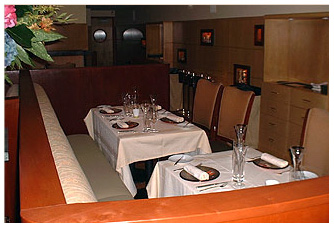 After working at my day job, I headed down to Jean-Robert at Pigall's to work a party with Raymond in the third-floor kitchen. The atmosphere in the main kitchen was very different than when I work on Saturdays. Saturday nights are very busy at the restaurant, and everyone is extremely focused. On Wednesday, we're not quite as busy so the mood and tone are a bit lighter; still focused, but lighter.
I enjoyed working with Raymond and having the chance to converse with folks in the kitchen — Mike, Amanda, Sarah, Abby, Karen, Rob(bie), Jeremy, Emily, Luke, and Raymond. Did I forget anyone? I don't think so… Ah yes! The two guys in the dish tank. That's everyone. I've mentioned everyone.
I finished the party and hung around for a bit before heading home for the evening. It was still early — only 9:30.
---
---