CULINARY: Another Pigall's Night — Nov. 11, 2006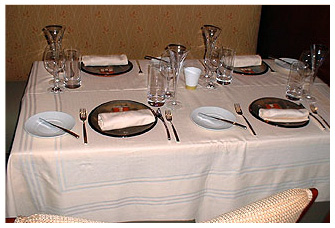 For the first time in about 6 weeks, I worked at Jean-Robert at Pigall's. For the first time in far too long, I stayed all the way through service instead of doing prep and leaving, which has been the style for some time owing to my schedule. And, or the first time ever, I hung out with the gang after service as well.
I arrived at the restaurant at 1:30pm and was greeted warmly by Raymond who was working hard in the butcher shop. Jeremy came downstairs and presented me with my own Jean-Robert at Pigall's chef's jacket — with my name embroidered below the restaurant's logo. I am the only non-employee ever to receive such a jacket. I switched out of my generic chef's jacket and into my new one. Suddenly, everything changed — I feel like I am truly part of the team, and am very, very happy and proud to be so.
We moved into prep mode, getting everything ready for the evening's service. My general approach is to speak with Jeremy, the chef d'cuisine, and find out who needs the most help and then do whatever I can for them. I bumped into Luke in the cooler and commented to him that his back must ache working day after day, because mine was killing me after only a few hours. In his trademark deadpan delivery, Luke simply said to me, "Andrew, I'm young" and walked away. I've never felt so old.
I made raviolis, parsley puree, cous cous purses in phylo dough, and more. After getting cleaned up from prep, I was invited by Jeremy to work on appetizers during service. I helped with opening oysters, painting plates for various dishes, and more (quenelles, my long-time nemesis, were flying off my spoons onto plates — looking great).
As service heated up, Jeremy moved me over to work the fish line with Amanda, who was getting slammed because everyone seemed to order fish tonight. She trained me briefly on what to do, which mostly involved setting up items as orders came in, searing off proteins (scallops, red snapper, black bass), and working garnishes as they were called for pickup. Amanda and I had a good time while keeping ourselves out of the weeds (too deeply). I really enjoyed working the line. During half-time (the eerie eye-of-the-storm quiet time between seatings), Jeremy and I discussed moving me to the meat station, but decided against it because fish got slammed again the in the second half. So, I worked with Amanda again for the second half. I feel a good rapport with her; I think we work together well.
After service, I was feeling pretty tired (and my back was hurting) but I hung out (sitting on my butt, a glass of wine in hand!) while the gang did a quick-but-thorough cleaning of the kitchen. IÂ accompanied them to O'Malley's in the Alley, a bar just down the back alley from the restaurant for a few drinks before heading home.
It was a very good evening.
---
---