DINNER 54: Thursday, February 23, 2006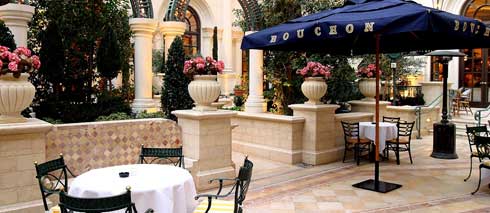 Wendy & I wanted to take Doug & Kelly out for a nice meal to thank them for hosting us this week. Based on my previous (breakfast) experience, we decided to take them to
Bouchon
, a classic French bistro and oyster bar, in the
Venitian Hotel & Casino
 in Las Vegas, Nevada.
We arrived at the comfortable restaurant and were immediately shown to our table near the front of the room. As we were settling in, we were greeted warmly by Joe, our server, and the sommelier, C. Houston Smith, who helped us decide on a bottle of wine to get started with. We ordered appetizers — a monkfish cheek special (out-of-this world), the country-style pate with watercress, cornichons, and radishes, and a couple different soups. We knew from these offerings that we were in for a treat. Entrees were the Poulet Roti (roasted chicken), Porc Braise (braised pork), and Croque Madame (sandwich), and  few side items including Macaroni au Gratin and Haricots Verts. Wendy's dish came with Pommes Frites and everyone sampled them. Desserts included the Lemon Tart (awesome), Brana Framboise to drink, and Bouchons, little cork-shaped chocolate cakes and more. We were presented with a bag of salted caramel popcorn as a take-away.
After dinner, the sommelier took us on a tour through the kitchen. The kitchen is big, bright, and quiet, everyone working efficiently. Kitchen staff stopped and greeted us as we went through. When we met the pastry chef, he gave us another bag of popcorn — this one chocolate and hazelnuts — to take with us, a nice suprise.
On the ride back to the house, I 'hit the wall' and completely ran out of steam, nodding off a bit. Fortunately, Doug was driving!
 
---
---