CULINARY: My twelfth night at Pigall's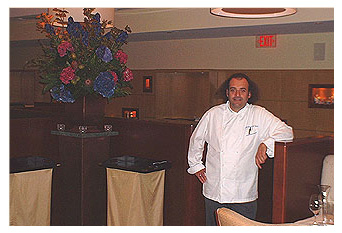 On Saturday, February 11, 2006, I spent my twelfth night in the kitchens of
Jean-Robert at Pigall's
. I arrived around 1:15 and was greeted by Todd, the sous chef, with, "Are you here all night?". Each time he's said that to me in the past, I came to find out that the night would be …different… somehow from a 'normal' night in the restaurant. This evening was no exception. In celebration of Valentine's Day, the restaurant was offering a
prie fixe
menu instead of the normal menu. The
prie fixe
menu was as follows:Â Â Â Â Â Â Â 
PERONA SMOKED SALMON AND KENTUCKY CAVIAR, QUAIL EGG, LEMON DRESSING AND CUCUMBER SALAD
MAINE LOBSTER SALAD, TROPICAL FRUIT AND AVOCADO, RED MICRO SALAD
DUCK LIVER RAVIOLI WITH SHIITAKE MUSHSROOMS, ROASTED PEAR AND FONDUE OF PARSNIPS, DUCK LEG CONFIT AND SMOKED BREAST DRIED CHERRY AND CRANBERRY COMPOTE
Guest selecte one from the following entrees:
SEA BASS, PINOT NOIR BUTTER, LIGHT TRUFFLE SAUCE, FONDUE OF ROOT VEGETABLES, WILTED WATERCRESS, VELVET PIOPINI MUSHROOMS
RACK OF LAMB, TARAGON SYRAH WINE SAUCE, FINGERLING POTATOES, GOAT CHEESE FLAN, CONFIT TOMATOES, MEDLEY OF MUSHROOM AND CREAMY SPINACH
BEEF TENDERLOIN, BORDELAISE SAUCE, ROASTED SHALLOT AND ASPARGUS, DAUPHINOIS POTATOES, OYSTER MUSHROOMS, FONDUE OF SNOW PEAS AND GLAZED CARROTS
Followed by assorted confections. 
After greeting everyone, I immeditately got to work peeling, slicing, and cutting beets into batonnettes for the root vegetable fondue for the Sea Bass. Then I julienned some sliced turnips for the party (in addition to a restaurant full of people downstairs, we also had a party of 28 people upstairs). I helped assemble loads of duck liver ravioli. After family meal (roasted chicken, mashed potatoes, and some of the worst macaroni & cheese I've ever tasted!), we got back to work when someone noticed that the container for cardboard was smoldering. By the time I went out to look at it, several of the staff were outside dumping water on the 5-foot high flames. Apparently, someone had flicked a cigarette into the bin and it caught fire. I pitched in, relieving the other guys, and finished cleaning up the mess before returning to the kitchen.
I went upstairs and helped with the party for much of service. In the tiny upstairs kitchen, I helped Jeremy & Brett prepare and plate several different dishes. Between courses for the party, I 'ran' for the other kitchen staff members — everything from restocking their cookware to cooling reduced cream and labeling and putting away products. Because I don't perform these tasks on a daily basis and I am interested in learning every aspect of these jobs, I don't mind pitching in wherever I am needed.
In the midst of a rather unusual night anyway, I was asked to do something I never thought I'd do in a 4-star fine-dining establishment: prepare grilled cheese sandwiches. I buttered both sides of four slices of white bread (someone had to run to the store to get some) and put two slices of American 'cheese' food (from the same run to the store) on each sandwich before surrendering it to the hot line to be grilled up to golden-brown perfection. It was interesting to me to observe what a commodity the American cheese was in the kitchen. I think most of us snagged a piece, folded it into little squares, and enjoyed the familiar flavor.
As service was winding down, I heard Chef ordering one of the foie gras appetizers, which I noticed because it's unusual for Chef to call orders. Since he had my attention anyway, I clearly heard him say, "It's for Andrew. He loves foie gras." The dish was sublime, unexpected, and greatly appreciated.
Tonight I noticed, more than other nights, that guests frequently make interesting requests when it comes to their food — no dairy, no red meat, no shellfish, no sugar, everything well-done, no chocolate, vegetarian (will eat fish), vegetarian (will eat nothing with a face), vegan, and more. For some reason, I was very aware of the number of these requests that came in tonight, and found it very odd. I am not talking about people with legitimate food allergies or conditions that require a modified diet. These people face very real & significant challenges in their diets and I am very patient and understanding about that. For everyone else that requests arbitrary changes to the menu because of their trendy food whims, please know that you're looked at with immense puzzlement by the kitchen crew. If I choose not to eat meat, not to eat fish or shellfish, not to eat heavy cream, and (God forbid) to order all my meat cooked well-done, why would I go to a fine-dining establishment at all!?
Because Chef was more accessible tonight, I had the chance to talk with him about our upcoming trip to Las Vegas and other topics. I left around 11:15, tired and sore and anxious to go back again. It was a good night.
---
---