CULINARY: My eighth night at Pigalls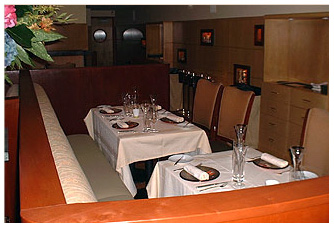 On Saturday, November 12, 2005, I worked at
Jean-Robert at Pigall's
for my eighth night. 
I'd been unable to work there during the summer because of busy schedules so it was a tremendous amount of fun to get back into the kitchen with the crew (some of whom were new since the last time I'd worked) and to put out some wonderful food.
I arrived around 1:00pm and got started with prepping for service. I worked on whatever anyone needed me to do, so I did a wide variety of tasks (including a not-quite-up-to-snuff attempt at brunoising red peppers — I'm slow and not as precise as they expect down there, which is something I intend to work on).
The restaurant has gotten a lot busier since my last time in the kitchen. The first turn was very busy — much more so than the last time I was in. I believe this is because Jean-Robert at Pigall's recently received a 4-star designation.
I stayed through the first turn and left around 8:00pm.
---
---