New Happy Mouth Logo Revealed — November 13, 2002
Tonight, November 13, 2002, the new official HAPPY MOUTH logo design and shield were unveiled.

---
After a secret design process (thanks to Paul Bernheimer for design assistance!), tonight at Aioli Bistro in downtown Cincinnati, Andrew & Wendy unveiled the official logo design for "Le Club des Amuse-Bouches du Diner", better known as the "HAPPY MOUTH SUPPER CLUB". 
The logo — rendered in gold, blue, black, white, and red — features a crossed knife & fork, a plate with five stars and a wine goblet, a cow with knife & fork, a pig with wine bottle & glass, the official name of the club, and the motto of the club — "Wretched Excess"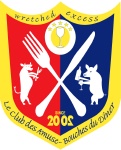 In addition to the design, also unveiled was a wooden shield with the logo hand-painted on it. Wendy diligently created the shield, which will accompany the club on their dining excursions.
A website, with merchandise emblazoned with the HAPPY MOUTH logo was also announced. The site is accessible now.
The HAPPY MOUTH SUPPER CLUB has been meeting monthly to dine at Cincinnati restaurants. The club has over 10 members.
---
---