Dinner at Jean-Robert at Pigall's, Tuesday September 25, 2007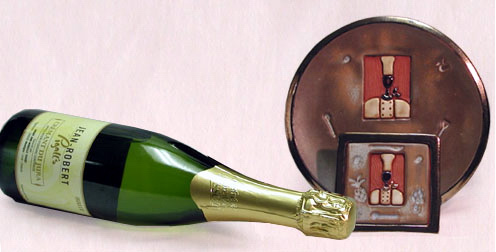 Jean-Robert at Pigall's
Tuesday, September 25, 2007
On Tuesday, September 25, 2007, Wendy & I ate at Jean-Robert at Pigall's for an amazing dinner to celebrate Wendy's birthday. The menu with wine pairings is below. Stupidly, I had my suit dry-cleaned and my notes from the dinner didn't come back with it.
Salutation Cove Oyster with Three Tomatoes: Salad, Puree, and Water
JK Carriere Glass, Willamette Valley, 2005
This was a fun dish since it presented the tomatoes three ways. The briny fresh oyster was a nice counterpoint.
Tuna Tartare with Cucumber and Fennel Mimosa and Organic Quail Egg
JK Carriere Glass, Willamette Valley, 2005
I adore the Tuna Tartare that is prepared at the restaurant and think that the egg on top makes a really nice sauce when you topple the tower (the dish is presented in a tower) and mix everything together. The fennel and cucumber mimosa provided vegetal counterpoints to the richness of the fish and egg.
Jonah Crab with Kentucky Caviar Cream, Gazpacho Style with Seaweed Sorbet
Kerpen Wehlener Sonnenuhr Riesling Kabinett, Mosel-Saar-Ruwer, 2005
I've said it before and I'll say it again: Jean-Robert knows his way with fish. This Jonah Crab dish was perfectly fresh and included the local Kentucky Caviar Cream. And Seaweed Sorbet is delicious! Whoda thunk it?!
Lobster with Sea Beans, Morels, and Mint Sabayon
Verget Bourgogne "Terroirs de Vergisson", 2006
Breast of Squab with Oregon Morels, Figs, and Sea Beans
Mystery Wine
Seared Foie Gras, Black Pepper and Sweet Wine, Watermelon and Watercress, Chanterelles and Cauliflower
Kracher Zweigelt Beerenauslese, Burgenland, 2003
Watermelon and Foie Gras are a good pairing. I love seared Foie Gras with a fruit accompaniment. Terrific dish.
Sea Scallop with Duo of Zucchini and Yellow Squash, Heirloom Tomatoes Roasted with Balsamic and Ragout of Snail and Horseradish
Rene Mure Cotes du Rouffach Tokay Pinot Gris, Alsace, 2001
Braised Arctic Char, Beets and Lemon Emulsion, Basil and Goat Cheese Risotto, Compote of Candied Fennel
Joseph Voillot Bourgogne Vieilles Vignes, 2004
The basil and goat cheese risotto was a real standout in this dish.
Short Rib Ravioli with Heirloom Tomatoes, Abbaye de Bel'loc and Tomato Vinaigrette
Pierre Gonon Saint Joseph, 2003
After having produced a ton of these ravioli while working in the kitchen, it is nice to experience the full impact of this dish in the dining room. It was delicious!
Lamb Loin with Thyme-Red Wine Sauce, Eggplant Roulade with Mushrooms, Corn, and Merguez Sausage
Pierre Gonon Saint Joseph, 2003
Assortment of Imported and Domestic Cheeses
Domaine de la Casa Blanca Banyuls, 2004
I so love a cheese course. I think a cheese course adds impact to any meal, and is an elegant stop along the courses. The cheese course at Pigall's provides tastes of 5 different cheeses (though for Wendy, 5 spoons of Epoises would be enough!). the Banyuls that was poured was delightful.
Variation of Sweets
Jean Lallement Grand Cru Brut, N/V
---
---