Dinner at Jean-Robert at Pigall's, Wednesday July 11, 2007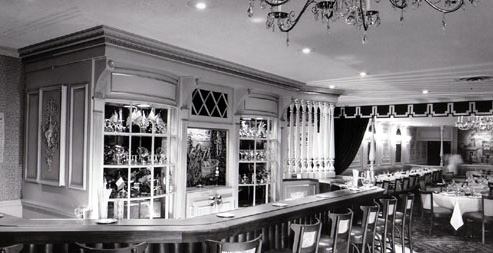 On Wednesday, July 11th, 2007 Wendy & I were joined by Karin Bergquist and Linford Detweiler of the Cincinnati-based band Over The Rhine for a landmark dinner at Jean-Robert at Pigall's. Karin & Linford have not dined at the restaurant before, and are rather new to fine dining in general. Jean-Robert is a fan of their music, so he pulled out all the stops for us.
We arrived at the restaurant for our 7:00 reservation, were warmly welcomed by Richard Brown, maitre'd, and enjoyed Pigall's Martinis in the cozy bar area before heading to our table, a four-top in a corner near the front of the restaurant.
Before settling in, we all went back to the kitchen to say hi to Chef and staff. Wendy, Karin, and Linford hung out and talked with Chef while I went and said hello to the kitchen staff — my co-workers when I am there (welcome back, Luke — I hope California was fun!).
Karin & Linford presented Chef with a collection of their CDs in Karin's "pre-iPod" music storage case — a lovingly-used case in which she used to store her CDs, headphones, and personal CD player (before iPods came along) when they were on the road. They added an Over The Rhine t-shirt and stickers. Chef was incredibly pleased with the gift, and was rendered speechless (a rare feat!).
We went back to the table, and the incredible feast began under the watchful eye of Angie, our server, with outstanding paired wines from sommelier Jason Price.
Our amuse bouche was a Salutation Cove Oyster with Tomato and Basil finished tableside with tomato nage and paired with Andre Tissot "Pigall's Label" Cremant du Jura, N/V. The richness of the oyster and the acidity of the heirloom tomatoes were nicely countered by the sparkling wine.
Next, we enjoyed a lovely Tuna Tartare with Summer Slaw, Avocado, and Hibiscus Sorbet. The summer slaw had fennel in it, which is one of Karin's favorite flavors. The pairing with the Alain Normand Macon La Roche Vineuse, 2005 was gentle and lovely. The hibiscus sorbet was light and elusive, sweet and bright.
A wholly gorgeous dish, Lobster with Cucumber, Trio of Melon and Quail Egg followed. The beautiful little melon balls added bright colors and sweet flavors to the perfectly prepared and thinly sliced lobster and cucumber. During this course, we encountered one of our favorite wines of the evening, the Robert Weil Keidrich Graffenberg Reisling Spatlese, Rheingau 2003. Oh, did we love this wine!
During our meal, Karin & Linford kindly played the role of our students as we jokingly 'tutored' them on the ins-and-outs of fine dining, including when to go to the restroom ("Ask your server first"), how to walk to the restroom without wobbling once you've been extensively served ("Walk fast and with conviction"), how to kiss the Chef ("Aim for his right cheek first!"), and more ("Drop your fork? Leave it!").
Piling delight upon delight, the next course was Zucchini Blossom with Pea Puree and Summer Truffle. I have stuffed tons of these fragile zucchini blossoms, so I doubly appreciate them for their delicate flavor. These were stuffed with delicious peas. Each dish was topped with two perfect (giant!) slices of gentle summer truffle, and finished with a hot truffle juice poured tableside. As generally happens when truffles appear at a table, all four of us leaned over the dishes, heads down, inhaling the wonderful aroma. Wendy & Karin are considering developing and selling truffle perfume. Our pairing for this course was a refreshing Joseph Viollot Bourgogne Vieilles Vignes, 2004
Somewhere near this point, Linford said, "I think we've found our new favorite restaurant".
One of our favorites is always the foie gras course. Chef knows this well about us, and did not disappoint with Seared Foie Gras with White Peach, White Grits, Arugula and Bleu Cheese. The generous serving of foie gras was seasoned and seared beautifully, topping a tower based with white grits, and white peach, surrounded by a brick dough ring. An amazing combination. Perfectly counterpointing the dish was the Robert Weil Keidrich Graffenberg Reisling Spatlese, Rheingau 2003
We had an energetic and enlightening conversation about the responsibility — real or perceived — of artists (like Bono and others) to use their fame/access to further their causes.
Following was Scallop with Chanterelle, Corn, Creamy Leeks, and Bordelaise — perfectly cooked scallops with a sort of puree of corn around creamy leeks, topped with a couple large pieces of Chanterelles. The pairing, actually a double-pairing, with Chateau Cotes de Lacoste Cotes du Castillon, 1998 and Verget Arbois "En Chante Merle", 2004 were both very good.
Our next course was Poussin with Morels, French Wild Asparagus and Consomme paired with Verget Arbois "En Chante Merle", 2004 (though Jason had originally intended to pair it with Domaine de Barroubio Muscat Sec, Langeudoc-Rousillon, 2005 until Chef added the Wild Asparagus. Jason gave us tastes of both wines for comparison.). The tiny birds (generally weighing approximately 1 pound each) were delicate and delicious, and the morels and asparagus made this a very fresh seasonal dish. The tiny poussin leg garnish made us appreciate just how tiny the birds are.
A brilliant Lamb Shank Ravioli with Sugar Snap Peas and Pommery Mustard was presented next. The lamb shank was delicious and incredibly balanced with the green crunch of the sugar snap peas and the warmth of the mustard cream. Lake Chalice Pinot Noir, Marlborough, New Zealand, 2005.
King Salmon with Ratatouille and Balsamic Reduction — a generous square of King Salmon graced half the rectangular plate and a roll of ratatouille counterbalanced it on the other half. The balsamic reduction tied both halves together in a seamless fashion. The flavors of the ratatouille were distinct and bright, and the knife work on the vegetables was tight and clean. Paired with the Lake Chalice Pinot Noir, Marlborough, New Zealand, 2005, this was a very nice fish course.
One of the stand-out courses for the evening was the Porcelet, Potato Galette stuffed with Goat Cheese, Duo of Haricot Verts, and Rosemary Jus. The porcelet (very young pig) was simply the most tender pork I have ever had, and it was seasoned and prepared to perfection. The potato galette stuffed with goat cheese was a delightful contrast in textures — the crispy potato yielding to the smooth, soft goat cheese… This was a dish I'd never seen at the restaurant before, and it shows that with great ingredients and great skill, amazing things happen. It should go without saying that the Les Closiers Chateauneuf-du-Pape, 2004 was both an exceptional wine and pairing.
Owing to previous experiences at Jean-Robert at Pigall's, Wendy & I have come to love cheese courses, so we were delighted when an Assortment of Imported and Domestic Cheeses appeared, with instructions to enjoy them from mildest to strongest along with the Domaine de Rancy Rivesaltes Ambre, 1990.
Chef came out to say hi to Karin and Linford and spent a few minutes chatting with them about their meal. They indicated that they've eaten all over the world and had not encountered food as good as this, and declared that Chef is a treasure to the city of Cincinnati.
I went back to say hi to the kitchen staff to find that most of them had left for the evening (since we closed the place, this wasn't a huge surprise). Only pastry chef Karen was in the kitchen, putting the finishing touches on our desserts when I walked in. Karen yelled at me (in a friendly way) to "Get out of here! Go back to your table so I can serve these!". So I went back out to enjoy our Variation of Sweets with La Spinetta Moscato d'Asti.
As dessert was ending, Chef came back looking a little shy. He approached the table, complimenting Karin & Linford on their great music, and then asked if they would sign the case that they'd given him. Of course, they were thrilled to comply. I happened to notice that the Sharpie he had for them to use is the one used in the kitchen for marking orders as they move through the stations — interesting the things one notices.
Finally, Chef heard directly from Karin & Linford what I'd been conveying to him to a long time: They want him to attend one of their shows! Chef works incredible hours and is devoted to his family and restaurant, but I hope that sometime, he'll be able to enjoy a live show from Over The Rhine.
---
---