RECIPE 23: Salty Crepes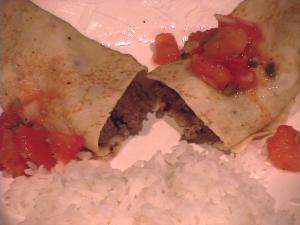 -= Exported from BigOven =-
                             Salty Crepes
From Deus Ex Culina. This is a surprisingly simple recipe that looks wonderfully complicated…
When I lived in Paris, it was customary for my friends and I to go out and have cider and galettes in the fall. The cider would be served in a large bowl-like mug and the galettes were thin and tasty, and contained either sweet or salty fillings. Galettes are made with buckwheat flour. The recipe I have calls for regular flour, so these, technically, are crepes.
You should make the batter yourself. It's not hard at all and you'll find that the ready-made stuff is too sweet for this kind of dish.
Recipe By:
Serving Size: 10
Cuisine:
Main Ingredient:
Categories: Easy, Desserts, Bread
-= Ingredients =-
~~ CREPE BATTER ~~
7 ounces flour ; (that's approximately 1 cup and half)
17 ounces fat free milk ; (just over two very generous cups)
1 1/2 tablespoons Butter ; melted
1 each egg
pinch Salt
~~ FILLING ~~
1 pound ground beef
Worcestershire sauce
Black pepper
fines herbs
garlic
seasoned breadcrumbs
-= Instructions =-
CREPES:
Mix until well blended and smooth.
FILLING:
Mix the beef and the seasonings together in a large bowl. Cook fully in a skillet over medium-high heat — should still be moist, though. Set aside, once cooked.
Get the largest skilled you have and heat up. Spray with non-stick spray. Keep heat at medium level. Take a ladle and pour into the skillet making sure you turn the skillet around to spread the batter over the surface in a thin layer. It cooks fast — no bubbling like with pancakes. You have to flip them over quickly with a spatula and your fingertips.
Once you've made your crepe, place it on a plate, spoon some filling on it, and roll it up.
That's it! You can serve it with some fresh spicy salsa topping (warm up first) or a dollop of sour cream. You can really use any kind of filling you like! If you have any left over crepes (this recipe usually yields 10 crepes), you can serve them for dessert: fill them with Nutella and serve with sliced strawberries…
Enjoy in good company!
** This recipe can be pasted into BigOven without retyping.     **
** Easy recipe software.  Try it free at: http://www.bigoven.com    **
---
---