RECIPE 22: Crispy Shrimp in Kataifi Crust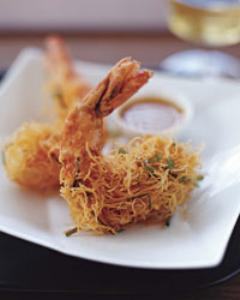 -= Exported from BigOven =-
                    Crispy Shrimp in Kataifi Crust
Joël Robuchon was inspired to create this dish after tasting a Vietnamese recipe for shrimp coated with soft vermicelli. "But I'm much more into Mediterranean flavors at the moment," he says. He also wanted a crispy crust, so instead of vermicelli he uses kataifi dough, a Middle Eastern pastry that resembles shredded phyllo.
Recipe By: Food & Wine magazine, February 2006, page 106
Serving Size: 4
Cuisine: French
Main Ingredient: Shrimp
Categories: Advance, Food & Wine Magazine, Hors dOeuvres, Appetizers
-= Ingredients =-
3/4 cup fresh orange juice
1/2 teaspoon jasmine tea
4 rosemary leaves
1/2 teaspoon cornstarch mixed with 1 teaspoon cold water
1/4 teaspoon balsamic vinegar
Salt
1/4 pound kataifi dough ; (see Note), snipped into 4-inch lengths
1/3 cup basil leaves ; finely shredded
1/3 cup chives ; cut in 1-inch lengths
1 large egg
1 tablespoon water
All-purpose ; flour
16 large shrimp ; shelled (but with tail shells left on) and deveined
Freshly ; ground pepper
Vegetable ; oil
-= Instructions =-
In a small saucepan, combine the orange juice with the jasmine tea and rosemary and simmer over moderate heat until reduced to 1/4 cup, about 5 minutes. Strain the infused juice and return to the saucepan. Bring to a simmer and whisk in the cornstarch mixture, then cook until thickened, about 30 seconds. Stir in the balsamic vinegar and season the orange-rosemary sauce with salt.
In a large, shallow dish, separate the kataifi dough into individual threads using your fingers. Add the basil and chives and toss to distribute throughout the pastry.
In a shallow bowl, beat the egg with the water. Spread the flour in another shallow bowl. Season the shrimp with salt and pepper. Holding the shrimp by the tail, dredge them in the flour and shake off the excess, then dip them in the beaten egg and roll in the kataifi; press to help it adhere.
Set a rack over a baking sheet. In a large, deep skillet, heat 1/2 inch of vegetable oil to 350°. Fry 4 or 5 shrimp at a time until the kataifi is golden brown and crisp, about 1 minute per side. Drain the shrimp on the rack. Season with salt. Serve the shrimp with the orange-rosemary sauce.
** This recipe can be pasted into BigOven without retyping.     **
** Easy recipe software.  Try it free at: http://www.bigoven.com    **
 
---
---