RECIPE 2: African Peanut Soup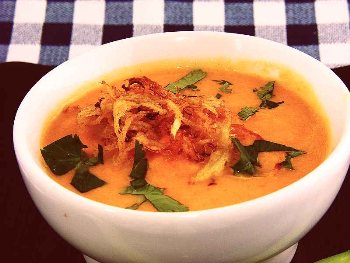 -= Exported from BigOven =-African Peanut Soup
A spicy-sweet contrast make this soup a special treat. A good use for leftover pumpkin. Canned puree of sweet potato or yams can be substituted. Increase the heat by adding more red pepper or red pepper sauce.
Recipe By:
Serving Size: 8
Cuisine: African
Main Ingredient: Peanut
Categories: Soup
-= Ingredients =-
2 teaspoons peanut oil
1 cup onion ; chopped
2 cloves garlic ; crushed
1/2 cup mushrooms ; chopped
1/4 teaspoon red pepper flakes
1/2 teaspoon paprika
1/4 teaspoon ginger ; or 1/2 tsp grated fresh ginger
2 cups Chicken broth ; (or vegetable broth)
14 ounces tomatoes, crushed ; from 1 can
1/2 cup Pumpkin ; cooked & mashed
1/4 cup peanut butter
1 medium scallion ; sliced for garnish
-= Instructions =-
In a medium sauce pan, heat peanut oil over medium-low heat. Add onion, garlic and mushrooms and saute slowly until vegetables are soft and golden colored. Add red pepper flakes, paprika and ginger and saute for another minute. Add broth and tomatoes. Simmer for 15 minutes.Remove from heat and allow to cool.
Puree vegetables and broth in a blender. Add pumpkin and peanut butter. Blend until smooth.
Reheat carefully over low heat, adding more broth or water as needed.
Garnish each serving with sliced scallions (green onions). You may also pour a tablespoon of buttermilk or half-and-half (in a swirl) into the bowl for a nice visual contrast.
** This recipe can be pasted into BigOven without retyping. BigOven.com ID= 161124 **
** Easy recipe software. Try it free at: http://www.bigoven.com **
---
---