DINNER 14: Saturday, January 14, 2006 — Jean-Robert at Pigall's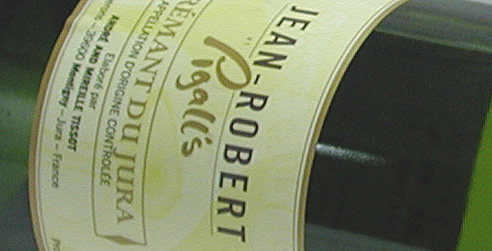 On Saturday, January 14, 2006, Milan, Brian, Tracy, Ted, Wendy, and Drew dined at the best restaurant in Cincinnati, the incomparable Jean-Robert at Pigall's. Our reservations were for 6:00, but we'd decided to meet at 5:30 to have a drink in Pigall's intimate bar. We perched around the tall table in the corner and enjoyed our drinks (white chocolate martini, bourbon, Pigall's martini, Rex Hill wine) before Richard Brown, the Maitre d', led us to our large round table in the center of the restaurant.We were settling into the comfortable seats when a complimentary bottle of champaigne appeared and was poured. Quickly glancing at the menus, we decided to endulge in the GOURMAND menu along with paired wines. Tammy, our super-fun and friendly server, collected the menus and was off, pausing only to re-fill our glasses.   
Amuse bouche: A tiny square white plate with four little bites: capers stuffed with egg on salmon mousse; a slice of potato with a nice sauce; and more.
The first course was Jonah Crab Salad with Fondue and Sorbet of Bell Pepper, Avocado and Smoked Paprika and was served with a lovely Trimbach Reserve Pinot Gris – Alsace, 2002. The contrast of flavors, temperatures, and textures in this dish is amazing. The paprika adds the perfect spicy background note and the cold bell pepper sorbet compliments the avocado and crab nicely.
The second course, a special for us, was Lobster Medallions with Watercress Salad and Roasted Mango. An amazing array of flavors in these small bites. The lobster was expertly cooked.
Next came Seared Foie Gras and Ravioli with Pumpkin, Fall Chutney, Duck Prosciutto, Duck Glasse served with Chateau de Monfort – Vouvray, 2004. These were delicious and especially fun for Drew — because making the ravioli isn't the most enjoyable job in the kitchen, Drew (as volunteer) gets to make a fair amount of them when working. It was delightful to eat, even after preparing tons of them! The fall chutney was wonderfully flavored, and the slab of foie gras was generous and perfectly prepared. Oh, how we love foie gras!
Another special dish, one perfectly seared diver scallop atop julienned ginger and a citrus sauce. This dish shows a confident, mature kitchen. The scallop was perfectly prepared — just a bit translucent in the center — and not 'fussed with' too much.
Next came Sea Bass with Walnut and Truffle Crust, Creamy Brussel Sprouts with Roquefort, Roasted Apple, served with a wonderful Jean Garaudet Monthelie – Pommard, 2002. It was dressed tableside with a most fragrant Truffle Sauce. When each plate was set in front of us, we just sat, breathing in the earthy, heady scent of truffles. This was wonderful, one of the highlights of the evening to be sure. Richard Brown, noticing that we were just smelling and not eating, stopped by to tell us about his next invention which will be perfume and cologne that smell like truffels and bourdeaux, and other culinary-related scents. He'll make a million dollars!
After a short (and needed!) rest, we were served a perfectly prepared Venison Chop with Pomegranate Sauce, Wild Mushroom Quinoa, Corn Flan and Root Vegetable Puree with Horseradish and Chateau de Pibarnon – Bandol, 2000. The venison was so tender and not at all gamey. The chop was cut into perfect slices and fanned on the plate, dressed tableside with the pomegranate sauce.
Tammy asked me if we could possibly handle a cheese course. Having had the cheese course from Pigall's before (and wanted our other diners to experience it as well), we said yes. Shortly, we were served individual plates of three or four cheeses each, and a large plates with generous slices of four additional cheeses. Cheeses included goat, sheep, camembert, blue, and others. The Fonseca Bin 27 was an excellent companion.
Our dessert course was 5 small desserts on one plate… Raspberry sorbet, pumpkin cake, chocolate bisque, creme brulee with fresh berries on the bottom, and a pecan mousse.
After coffee, we asked Richard Brown if it would be okay to go back to the kitchen. He said that Chef would be "incensed" if we did not, so Tammy escorted us back into the kitchen to a warm reception from Chef (who received grateful kisses from all the ladies). We chatted a bit with the rest of the guys in the kitchen before going back to our table to settle up and say our goodbyes, around 10:30.
It was an astounding meal, and our first-timer friends were suitably blown away.
---
---