Almost everything you ever wanted to know about Drew Vogel (.COM)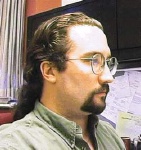 Drew is the Manager of Professional Programs at the
College of Pharmacy
at the
University of Cincinnati
. He lives in Forest Park (Cincinnati, Ohio) with an
amazing woman
, five crazy cats, and three stupid dogs. The University of Cincinnati is the second largest university in Ohio, with more than 35,000 students. The UC College of Pharmacy is one of the smallest in Ohio, and one of the most competitive in the region. Drew has worked at the University of Cincinnati since 1992, starting in the Admissions Office before moving to the College of Pharmacy in early 1996.  
Drew's academic, professional, and personal interests are diverse and multidisciplinary. He studied at Northern Kentucky University and graduated with a Bachelor of Fine Arts degree in Theatre Performance/Directing emphasis in 1991. Theatre, be it on-stage, as a director, or as technical help, has always been a passion for Drew.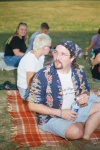 Drew has been interested in computers ever since he saw his first TRS-80. The Commodore 64 was next on the block, followed by several different models of Amiga computer, from 500, 1000, 2000, CDTV, and finally an Amiga 4000. In addition to the Amiga, Drew also configured several computers for another of his hobbies — BBSing. For many years, Drew was the SysOp of the wildly successful Bulletin Board System, The Cafe' BBS ("If you were a better customer, you would eat more food"). This system ran the excellent RemoteAccess BBS software, and was one of the most diverse and popular BBSs in the Cincinnati area due to its connections with FidoNet, PODnet, and several other specialty networks. Membership on The Cafe' BBS was over 250.   
Drew was a collaborator on a radio show, called SMACK IT CINCINNATI!. The wildly-popular show ran during the summers on WAIF 88.3FMÂ for three seasons.
Another project for Drew was to co-produce a Tribute CD for Cincinnati-based band Over the Rhine. Working with his cohort, Bruce Lachey, Drew created artwork, contributed a track, and handled the "behind the scenes" work for this project which has raised well over $1000 for Cincinnati Community Shares, a local charity. Drew now works as part of the Over The Rhine team, managing their online forums and providing technical support for them.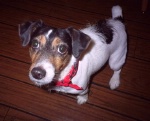 His personal interests include gourmet cooking, fine dining, humor, movies, reading, writing, theatre, technology, outdoor activities, sociology & social psychology, alternative operating systems,
Iron Chef
, computer gaming, live music, sports cars, driving fast, and travel.
---
---