RECIPE 25: Roasted Garlic and White Bean Puree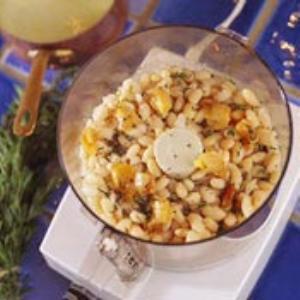 -= Exported from BigOven =-
                 Roasted Garlic and White Bean Puree
Roasted garlic and thyme turn plain white beans into a perfect accompaniment for robust lamb. A little cream gives the puree a rich flavor and a pleasing texture. For an even richer puree, warm 1/4 cup mascarpone with 1/4 cup milk and use that in place of the cream. http://www.cooking.com/recipes/rerecite_print.asp?No=1086 Source: Fine Cooking magazine – Issue 23.
Recipe By:
Serving Size: 6
Cuisine:
Main Ingredient:
Categories: Fine Cooking Magazine, Vegetables, Side Dish
-= Ingredients =-
2 cups Dried White Beans ; great Northern Soaked Overnight
In Cold Water And Drained
1 whole head Garlic
1 tablespoon Olive Oil
1/2 teaspoon Fresh Thyme ; Chopped
1/2 cup Heavy Cream ; Warmed
to taste Salt & Pepper
-= Instructions =-
Put the soaked and drained beans in a large saucepan and add water to cover the beans by 3 inches. Bring to a boil, cover, and simmer until very tender, 1 to 1 1/2 hours.
Meanwhile, heat the oven to 400 degrees. Cut off the top third of the garlic head to expose the cloves. Coat the cut side with the olive oil, wrap the garlic loosely in foil, set on a baking sheet, and roast until soft, about 1 hour. Drain the cooked beans; put them in a food processor. Squeeze about 8 of the roasted cloves of garlic (or more to taste) into the bowl. (The rest of the garlic will keep, wrapped, for about a week in the refrigerator.) Add the thyme and half of the warmed cream and puree. Add just enough of the remaining cream while pulsing until the puree is the consistency of mashed potatoes. Season with salt and pepper. Serving size = 3/4 cup
** This recipe can be pasted into BigOven without retyping.     **
** Easy recipe software.  Try it free at: http://www.bigoven.com    **
---
---