DINNER 175: Saturday, June 24, 2006 — Jean-Robert at Pigall's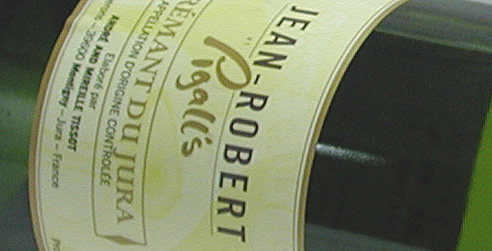 What a meal this evening — we were certainly "eating strong!" during this culinary tour-de-force. Wendy & I dined at Jean-Robert at Pigall's, a 4-star French restaurant in downtown Cincinnati.
Jean-Robert at Pigall's innovative three-course prix fixe menu features a delectable array of appetizers, entrees, and desserts accompanied by an extensive wine list. A five-course degustation menu is also offered and wine pairings, suggested by the sommelier, are available for all menu selections. 
As loyal readers of this site already know, I have been volunteering at the restaurant since January of 2005. It is a lot of fun to visit the 'front of house' side of the restaurant after becoming so familiar with the 'back of house'.
We arrived around 7:30 with the intention of having a drink at the bar before moving to our table for our 8:00 reservation. However, Richard Brown, the maitre'd, led us to our table immediately. Tammy, our wonderful server, followed very shortly behind Richard with two glasses of sparkling wine, compliments of Jean-Robert to help us settle in for the evening. And what an evening it was — an amazing progression of dishes and paired wines, and lots of fun conversation with Tammy, Jason, Michael, and Richard.
A couple quick notes: The designation "Menu" indicates that the item was off the five-course degustation menu, though some of the items were modified versions of what appeared on that menu. Items in Bold Italics were an unexpected surprise from the kitchen. Thanks to Tammy and Jason, we kept pretty good track of what dishes we received and which wines went with them; these wines are listed as they arrived at our table.
* Menu: The amuse bouche du jour was a tiny quenelle of rich & flavorful chicken liver pate atop toast and frissee salad underneath, next to a phyllo-wrapped vanilla cream cheese & carrot roll, alongside a small cup of fish soup. These three items all paired well with the sparkling wine. I've made plenty of the phyllo-roll, so it was entertaining to have it served!
* Jason brought two lovely glasses of Huber Gruner Veltliner "Obere Steigen" – Austria 2004 and we asked what it was to pair with. He indicated that there were plenty of surprises to come, and this wine would pair well with them all. The Gruner is an incredibly light and flavorful wine, certainly one of the wines we enjoyed very much tonight. Soon came a country-style Lamb Terrine with arugula and a piperade quenelle. It was a pleasant surprise to see this, the first of three dishes from the cold kitchen, especially because I'd recently completed my own GARDE MANGER class. 'Piperade' is an onion and pepper relish, usually cooked in olive oil.
* Next came a Jonah Crab Salad — a round tower of white crab meat atop diced beets with a layer of sugar snap peas, and topped with cauliflower sorbet. The contrast of colors and textures in this dish was a highlight. We've been pleasantly surprised with the sorbets that are served — Wendy well recalls her unexpected delight at the taste of the asparagus puree we tasted in 2005.
* Next came a perfectly-seared Scallop on Spring Vegetable Puree with Mushroom Duxelle Quinelle, Pea Tendrils, Risotto. The sweet scallop was fanned out so we could see the translucent interior. It was soft and delicious, and the puree and vegetables were seasonal and fresh-tasting. The wine for this course was Marcel Deiss "Grasberg" — Alsace, 2002 and was light, fresh, and tangy, with a long finish.
* Menu: We continued through our extended fish course with a Sauteed Shrimp with Piment d'Espellete, Goat Cheese, Asparagus and Dandelion, Wild Boar Proscituo. The combination of the spicy sauteed shrimp and the goat cheese was unexpected and seemed intuitive once I'd tasted it. The 'green' flavor of the asparagus and dandelion were balanced by the richness of the prosciuto. The combination of flavors taken at once was wonderful, as was the textural contrast between the crunchy vegetables, the smooth goat cheese, and the shrimp. The presentation was very nice as well, again relying on ring molds to provide shape to the tower. The shrimp were cut in half and layered in an interlocked pattern on a bed of soft goat cheese and slices of asparagus spears, then topped with a few strands of dandelion and the proscituo.
* Menu: Next came the foie gras preparation — Seared Foie Gras with Cherry, Corn, and Duck Leg Confit Relish and a slice of Brioche. It was served with A perfect and classic preparation and presentation of Foie Gras, one of our favorite dishes. The brioche and the relish soaked up the flavorful juices from the foie gras, and the cherries on top added a focal point. The crunchy 'pop' of the corn kernels contrasted nicely to the softness of the foie gras. Styring Vineyards Dessert of Pinot Noir "Port" – Willamette Valley 2003 was sweet; a chocolate & cherry flavor, not cloying, light, and with only 16% alcohol; a very nice compliment to this dish.
* Menu (well, on the three-course menu, but prepared for us at our request): Roulade of Monkfish with Artichokes, Hen of the Wood Mushrooms, Serrano Ham, Shrimp Nage and Spinach Flan. The second of the 'garde manger'-style dishes, this roulade of monkfish was seasoned well, and the spinach flan was the essence of springtime on a fork.
* Menu: Artic Char with Carrots and Truffle, Creamy Morel and Green Vegetable Puree, served with Francois Raquillet Mercurey Vieilles Vignes, 2004. A delightful presentation, very restrained. The puree lined the plate, the morels and carrots above, with the lovely piece of Artic Char on top. The aroma of truffles made our mouths water again, even this many dishes into the meal!
* Rabbit Roulade with Orzo, Root Vegetable Quinelle, Rabbit Reduction with Thyme — the third of the 'garde manger'-style dishes, this was rich with the smell and flavor of fresh Thyme. The root vegetable quinelle added a welcome contrasting note and the rabbit was tender and richly-flavored.
* Menu: Buffalo with Poivrade Sauce, Wild Mushroom Quinoa and Piperade. A beautifully-cooked piece of buffalo atop of bed of quinoa with a piperade quinelle nearby. I had forgotten how much I enjoy quinoa and this dish was an earthy, homey reminder. The meat was tender, dense, and flavorful. I believe Tammy saw our eyes starting to roll back because she reassured us, "There's this course, a cheese course, then we're heading into desserts". This dish was supposed to be served with Les Closiers Chateauneuf-du-Pape, 2003, but Jason told us of a happy accident that enabled him to pour a different wine (that I cannot recall!) that complimented the buffalo very nicely. The servers announced this dish, as they do with everything, but for this one they said it was, "Tatonka with a Tatonka reduction; maize flan". Very funny!
* Cheese course featuring Petit Bass, Sheep's milk Camembert, Bouscheron, Epoisses (on a spoon — this was Wendy's favorite cheese), fauame d'avembert and served with a Cossart Gordon Bual Solert, 1845 (a wonderful Madira).
* Menu: We moved on to desserts and were astounded that Karen sent out four small desserts for each of us… Creme Brulee (on a spoon, which I thought was a neat presentation) on a fruit coulis, a mulberry tart (which I adored) with cinnamon ice cream, a yogurt sponge cake with almond cream and caramel, and a milk chocolate macadamia truffle tart. Delicious! It is a testament to Karen's skill that we ate every last crumb despite being quite satisfied!
A listing of wines, as provided by Jason (I know I didn't assign all the wines above, and probably didn't get them properly assigned, either!). Here's the list…
Chateau de Roquefort, Costes de Provence, 2004
Huber Gruner Veltliner "Obere Steigen" — Austria, 2004
Styring Vineyards "Six Cluster" Pinot Noir "Port", 2003
Marcel Deiss "Grasberg" — Alsace, 2002
Jayner Gilles Hautes Cotes de Nites Borgogne, 2002
Francois Requillet Mercurey Vieilles Vignes, 2004
Gunderloch "Jean Baptiste" Reisling Kabinett, 2003
Chateau Garin, Pomerol, 2001
Cossart Gordon Bual Solert, 1845
Chateau les Roques Lorepiac, 1999
After the meal, we went to the kitchen to greet the gang and then to the front where Jean-Robert was sitting with some old friends. He spent some time chatting with us and then we headed home at 11:30, completely satisfied.
---
---