DINNER WITH FRIENDS
Dinner With Friends
by Donald Margulies | Directed by Andrew Vogel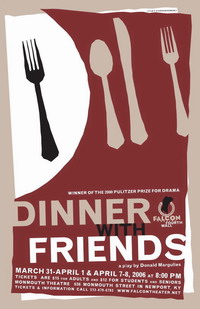 Falcon Theater proudly presents the second in it's "Fourth Wall" series, DINNER WITH FRIENDS by Donald Margulies.
Falcon Theater's Fourth Wall series is a venue for the unique. The Fourth Wall series was conceived to be an opportunity for Falcon Theater to produce shows that don't fit into our regular seasons … because of size, audience demographics, or artistic challenges. It can be a venue for new plays, new directors, intimate theatrical experiences and even staged readings.
DINNER WITH FRIENDS, the 2000 Pulitzer Prize winning play, revolves around the close relationships of two married couples who arrive at crossroads in their marriages.
This insightful, bittersweet drama features Tracy M. Schoster, Angel Zachel, Ted J. Weil, and Mike Fielder. Director Andrew Vogel, an amateur chef with a degrees in theater and culinary arts, is excited about this production because it combines two things about which he is passionate. According to Vogel, "important life-events are often centered around meals, especially around the dinner table".
"When we are children, one of our first social interactions is with our parents at the dinner table," Vogel says, "We learn the importance of communicating our everyday experiences with friends and family around the table and that continues when we become adults."
Vogel believes that many couples will see something familiar in this production. At times funny and tragic, the play deftly "pulls back the curtain" on how our relationships change, grow, and sometimes end.
DINNER WITH FRIENDS contains subject matter and language intended for mature audiences only.
Performance dates: March 31, April 1, 7, and 8 at 8:00 p.m.
Tickets are $15.00 for Adults and $12.00 for Students and Seniors.
Monmouth Theatre
636 Monmouth Street
Newport, Kentucky
For reservations and information, please call 513-479-6783 or visit the website at http://www.falcontheater.net
---
---