DrewVogel.COM Store
THE STOREFRONT
Why go somewhere else to get ripped off when you can come here?
---


and SUPER HOT!
You've seen it on some of the best-dressed musicians, artists, actors, and personalities. Now is your chance to get your very OWN!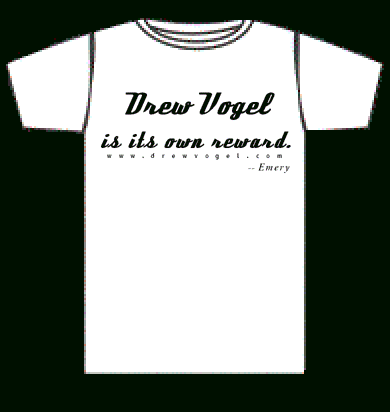 click to enlarge
That's right! The DREW VOGEL t-shirt is available in a limited edition.
This snazzy design is permanantly heat-transfered onto a crystal-white Beefy T and proclaims for all to see that "Drew Vogel is its own reward" along with the address of this site.
Now is your chance to show support for your favorite online personality!
To purchase: Send check or money order made to Drew Vogel. Specify your t-shirt size and return mailing address. Cost is $12 + $3.00 for shipping and handling. Discounts available for bulk orders (8+) and tax-exempt institutions.
Send your order to:
BowTie Productions
ATTN: Order Fulfillment
1132 Waycross Road
Cincinnati, OH 45240
This high-quality shirt is available in M, L, XL, and XXL.
Your satisfaction is guaranteed!
Order now!
Coming soon: DREW VOGEL pocket-tees, windbreakers, jackets, and embroidered items.
---
---