First JAMES BEARD dinner in Cincinnati, April 3, 2003
On April 3, 2003, Wendy & I attended the first-ever James Beard Dinner in Cincinnati, Ohio to benefit the James Beard Foundation.
James Beard is recognized as the father of American gastronomy. Throughout his life, he pursued and advocated the highest culinary standards, and served as a mentor to emerging talents in the culinary arts.
The meal was at The Palace Restaurant in the Cincinnatian Hotel in downtown Cincinnati. The Palace's husband and wife team of Executive Chef Guy Hulin and Pastry Chef Noreen Nagao hosted noteworthy chefs from around the country for this event.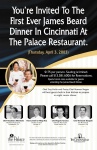 Click the picture for a larger view in a new window.
The guest chefs for this evening:
The eight course menu featured dishes from each of the chefs, and each course built upon the previous for a truly multi-cultural dining experience.


---
The menu for the evening, indicating the chef and wine pairings is below. My comments are in italics after each course.
AMUSE-BOUCHE: Lobster, mushrooms and spinach with hollandaise; crab salad with mango in a cucumber cup by Chef Bouquin.

Semi-bitter chocolate foie gras terrine with seasonal fruit chutney compote; Parma ham with micro arugula salad and Parmesan tuile by Chef Hulin.

* Wine served with Amuse-Bouche: Gruet N.V. Brut Blanc de Noir New Mexico

The amuse-bouche were very nice. The foie gras terrine, as expected, was one of my favorites, followed closely by the crab salad. The lobster, mushrooms, and spinach were served in a puff pastry and weren't outstanding.

SALAD: Peeky Toe crab & eggplant "cannelloni" salad with toasted pinenuts, lemon confit, vegetable compote, 11-spice mustard dressing by Chef Hulin.

* Wine with salad: Havens 2001 Albarino Carneros

This was a beautifully presented dish. A thick, square clear glass plate had three small 'cannelloni' piled in the center with a tremendously flavorful 11 spice mustard dressing drawn in lines parallel to the sides of the plate. This began the series of absolutely gorgeous platings.

SOUP: Jerusalem artichoke soup with duck confit and black trumpet coulis by Chef Bouquin.

* Wine with soup: Eric Texier 2001 Macon-Bussieres "Tres Vieilles Vignes"

Jerusalem artichokes are an underutilized ingredient, and it was nice to have a soup course that featured it. The dark brown swirls of coulis were a very pretty accent to the soup, but the flavor wasn't as perfected as it might have been. Wendy said that she prefers my Apple-Chestnut Soup with Spiced Cream.

SEAFOOD: Spicy Maine Lobster with bell peppers, lotus root, daikon radish, tomato and fresh herbs by Chef Morimoto.

* Wine with seafood: Domaine Raquillet 2001 Mercurey V.V.

Even though we're great fans of Chef Morimoto and therefore biased, this dish still stands out as one of the highlights of the evening. Wendy and I had enjoyed a similarly-spiced version of this dish during our trip to restaurant Morimoto last year, though tonight's version featured the concasse and the 'original' has citrus crème fraîche.

ENTRÉE: Seared bison tenderloins and braised shortrib Tortelli with melted gorgonzola cheese and celery root on a Barolo wine reduction by Chef Auriana.

* Wine with entrée: Seghesio 1998 Barolo La Villa

Another highlight of the meal, the bison was superbly prepared; very tender and flavorful. The Tortelli, white with its blanket of gorgonzola, was nearly lost on the white plate, but provided a nice flavor courterpoint to the bison.

DESSERTS:

Mango sorbet with toasted coconut parfait and tropical fruit salad by Chef Hsu.

* Wine with tropical dessert: Mas Amiel 2001 Muscat Rivesaltes

Having seen her win the World Pastry Cup, we were anxious to experience the cuisine of Chef Hsu. The sorbet was presented as a miniature cylindrical bombe, with a toasted coconut disk enclosed in the middle. The tropical fruit salad had very bright flavors, and the spun sugar ribbon and thin, dried round of pineapple on top of the sorbet added flavor, crunch, and eye-appeal. This dish was the highlight of the desserts for me, but Wendy, as expected, preferred the second dessert, below.

Black truffle and chocolate mousse with chocolate and raspberry sorbet by Chef Nagao.

* Wine with chocolate dessert: Mas Amiel 2000 Maury Vintage

This was a gorgeous and very rich mousse with a wonderful black truffle. The raspberry sorbet had a very clear, bright flavor. The mousse was topped with a sugar piece, making this the tallest of all dishes of the evening. There will be a picture of this dessert soon.
FINALE: Assortment of gourmandises by chef Nagao.
Believe it or not, I was too full to partake in any of these delicious looking little bites.
After the meal was over, the chefs were introduced one-by-one by Executive Chef Guy Hulin, and a check was presented to a representative of the James Beard Foundation. Once the formal part of the evening was over, my hopes turned toward greeting Chef Morimoto.
I needent have worried, since the Scott, the Maitre'D, and the wait staff had informed Chef Morimoto that we'd gotten engaged last year at his restuarant. He made a beeline over to us, and visited with us for about 10 minutes, longer than he visited with anyone in the room. We had a nice conversation about his trip to Cincinnati, the Cincinnati Reds, our trip to Philly, and more.
He asked if we were still married (rather than explaining our long engagement, we took the easy route and just said, "Yes"), and if we had "any babies" yet. He was very concerned about the fact that we didn't have any babies yet, and made us promise to let him know when we did.
I had printed a couple pictures from our trip to his restaurant, and Chef Morimoto was kind enough to sign both of them (along with the sushi purse that our friend Debbie gave to Wendy), with different Japanese wishes on each picture. As soon as we get them translated, we will post the messages here.
Morimoto-san signing stuff for us.
After speaking with Morimoto-san, we spoke with Chef Hsu, who was very nice but seemed a little shell-shocked by everything, which was a surprise since she won the World Pastry Cup — a MUCH larger event than this. We also spoke with Chef Auriana. I asked him how he liked Cincinnati and he said, "I got here jetlagged, and I will leave jetlagged. So far, Cincinnati seems like a good place to sleep". I couldn't argue.
Morimoto-san with Wendy.
It was a tremendous evening, and we're glad that we were able to share it with Ray, Pat, Rick, and Jennifer (the nice one, not the other one — inside joke).
---
---