Show Your Support: SAVE JESUS!
"Aghast". "Scared". "Wretched". "Pissed off". "A little hungry."
These are all terms that came to my mind when I learned that this very website was the unwilling host for this tragic kidnapping.
Despite my best efforts, it appears that the kidnappers can access this site and post their bizarre stories here.
Please know that all of us at DrewVogel.COM are absolutely heartbroken to hear about the kidnapping, and hope that Mr. Langley will comply with the demands of the evil kidnappers as soon as possible to ensure a safe return of the child.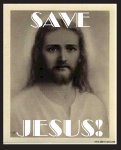 Click the image above to download a PDF (408k) image that you can print and hang all around to show your support. Please pitch in and help us SAVE JESUS!
---
---